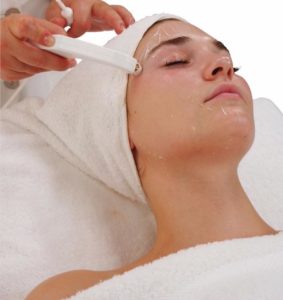 COMCIT stands for Cryo Oxygen Microchannelling Collagen Induction Therapy. It offers the delivery of Cryo Oxygen while using a Microchannelling roller which creates hundreds of microscopic channels in the skin. This allows for the infusion of powerful rejuvenation ingredients. It is the most intensive rejuvenation system yet! COMCIT acts radically on marked and fatigued skin which immediately regains firmness, tone and radiance as well as instantly smoothing, refreshing, plumping and making skin appear more youthful. We have a number of bespoke Comcit facials available for you, depending on your unique skin needs! Below your options, as always contact us for a thorough consultation so that we can discuss what will work best for you:
H2O GLOW COMCIT FACE ONLY
The H20 Glow facial delivers freezing cold oxygen throughout the epidermis to nourish and invigorate skin cells. The COMCIT Microchanneling action allows Hyaluronic Acid to reach deeper dermal layers via microchannels, plumping and re-balancing the skin from the inside out. Click here for an informational video on the COMCIT process.
Price £120/ 60 min

H2O GLOW COMCIT FACE, NECK, DECOLLETAGE
Targeting 3 key areas to reinvigorate youthful skin! Comcit treats ageing, dehydrated skin with results that are simply staggering. It provides an instant, perfect dewy glow. Anti-Ageing treatments don't need to stop at the face. COMCIT treatment performed to the décolletage tackles sun damage, lax skin and wrinkles.
Price £150/ 60 mins
H2O GLOW COMCIT DECOLLETAGE ONLY
A tailored and focussed treatment is performed to the décolletage, tackling sun damage, lax skin and wrinkles. It is ideal for improving skin tone and texture where this delicate area is prone to ageing.
Price £120/ 45 min
H2O HANDS
Price £120/ 45 min
COMCIT FROZEN FACE ONLY
Enjoy a full cleanse and gentle exfoliation, followed by our ground-breaking COMCIT treatment. We employ simultaneous infusion of Cryo-Oxygen and a Hyaluronic serum that is packed with plant stem cells. It is delivered into the lower level of the skin through a closed-circuit blast of freezing cold oxygen.
Price £160/ 60 mins
COMCIT FROZEN FACIAL, NECK & DECOLLETAGE
Enjoy a full cleanse and gentle exfoliation, followed by our ground-breaking COMCIT treatment. We employ Cryo Oxygen and Micro Rollers to infuse the skin with a potent Infusion. It is tailored to tackle your skins concerns and stimulate collagen production.
Price £195/ 90 min
MICRODERM & OXYGEN & REPAIRING MASK COMCIT
Multi- action with Cryo Therapy, Oxygen, Microchannelling and Skin Infusion. They work simultaneously and in harmony to encourage your skin to naturally repair itself by increasing Collagen production. We then apply a face mask to suit your skin type to boost hydration, firming and lifting your skin with an instant firming and plumping effect.
Price £95/ 60 min
ACNE TREATMENT AND OXYGEN THERAPY
Price £120/ 60 min
SKIN REPAIR LIFTING COMCIT
Price £160/ 60 min