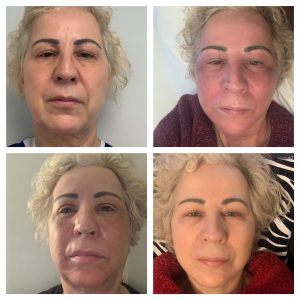 Not long ago I was telling you about my adventures in Greece (and my big fat Greek holidays in Athens…).
This time, my destination was a far rainier and damper, but very picturesque place: Killarney in Ireland, where I did my Elaine Brennan Skin Renewal Peel training with three other talented Irish beauty practitioners. It was a lovely little town with super friendly people and beautiful coffee shops and restaurants. I was even lucky enough to catch a glimpse of the sun which, according to locals, is quite a big deal!
Elaine Brennan Skin Renewal Peel is a chemical peel that transforms and renews your skin, and I am excited to announce that I'm now the first practitioner to introduce this amazing skin renewal system in the UK! Those of you who have followed the videos with my skin transformation on this page will have seen its amazing results over the course of ten days. I love to practice what I preach, so was more than happy to have the peel applied to my skin so that I can document the change. The results speak for themselves, and as I just reached the age of 60, I now got a skin which reminds me of that on my 30th birthday. Woohoo!
So with February now upon us (the month of love, some say, and I would include self-love in that…) I would like to give you the opportunity to get a fabulous, young looking, glowing skin too! During this month, we will run this introductory offer: buy the Elaine Brennan Skin Renewal Peel for £600 instead of £900, saving you a whopping £300! On top of this (and you know how passionate I am about your skincare) I'm also offering one of my travel sized EleniLondon skincare products of your choice for FREE. How is that for a super offer?
I know that many of you can not stay home for a week to do the peeling but don't despair, I have also something for you too!
Buy a course of 6 Mesoestetic peelings and pay only for four! This is a saving of £150 and you all also get a travel size product for free!
So what does the Mesoestetic skin peel do for your skin? Well, this will depend on the type of peel you wish to go for; superficial peels are good for treating fine lines and wrinkles, large pores and dark spots, and to help tighten the skin. Medium-depth peels can help treat skin that has a significant amount of photo damage, sun spots, mild to moderate acne scars, crepey skin under the eyes, or dark circles.
I can help you out if you are concerned about the downtime too! As you know (or suspect after having watched my videos), the Elaine Brennan Skin Renewal Peel requires a week of downtime in order to give the peel the chance to complete the chemical reaction that will renew and rejuvenate your skin. We can discuss a plan to do our Mesoestetic peelings gradually in order to minimize downtime. Simples!
We look forward to seeing you soon in our salon, and we are ready to serve your skin as always! To grab this opportunity to spectacularly renew your skin, contact us now on info@elenilondon.com and 0207 228 9555 or make your booking directly here.
Warm regards,
Eleni