Thesera L No Needle Thread Lift
Thesera L No Needle Thread Lift is a brand new treatment from Korea. We are proud to say that our clinic in Clapham is one of the few currently offering this relaxing and non-invasive treatment in the UK.
What are the benefits of Thesera L No Needle Thread Lift?
This is a fantastic new no needle thread lift, with results that we just love!
How does Thesera L No Needle Thread Lift work?
Thesera L No Needle Thread Lift uses a patented, groundbreaking new technology. Instead of needles, dissolving threads are used to create lift within the skin.
The treatment consists of 5 steps, carried out over 80 minutes. Step 1 creates the tunnels in the skin. Step 2 absorbs the threads. Step 3 is moisturising and encouraging circulation. Step 4 involves the acceleration of thread absorption – this will also create tightening in the skin. The final step is nourishment.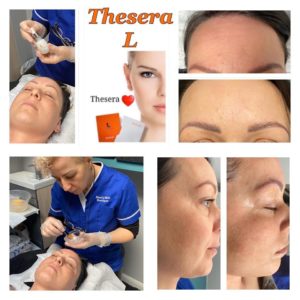 Thesera L is relaxing and pain-free but will leave your skin feeling tighter and firmer.
• No discomfort
• No bruising
• No swelling
• No needles
• No incisions
• No downtime
After the treatment is complete, the threads have travelled deep into the skin, where they work to attract collagen. Over time, the threads form a firming cushion.
How many Thesera L No Needle Thread Lift treatments will I need?
Results can be seen immediately with this treatment, with the skin appearing lifted, smooth and glowing.
However, for best results, we recommend 4 treatments at our skin clinic in Clapham. This will allow the threads to build up, maximising collagen production. Results last for 6 to 12 months but can last up to 18 months with multiple sessions.
If you have any further queries about the Thesera L No Needle Thread Lift, we would love to assist you. Contact us today to discuss your treatment.